Klik Sini Untuk Versi Bahasa Melayu
PROPOLIS GOLD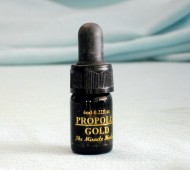 What is Propolis?
Propolis is a sticky filler substance, which the bees use to seal up the hive, protecting it from the outside environment. The bees also coat the entire inside surface of the hive with the Propolis polishing it to create one of the most sterile environment known to nature
Propolis is a sweet smelling, resinous substance gathered by bees from the bark or leaf buds tree, especially poplars. Its remedial value has been known for thousands of years as a treatment for numerous ailment.
Propolis is one of the key components that protect the bee from all viruses and bacteria. Bees have been in existence for over 4,500 million years. Of the 8,000,000 known types of insects, it alone enjoys immunity and cannot be destroyed by bacteria.

Today, interest in this natural healing substance has been revived, and its effectiveness is being scientifically verified in many parts of the world.

You also find in Propolis a wide variety of additional elements including organics and amino acids, vitamin, minerals, and most importantly, bioflavanoids now believed to be an active ingredient in the healing process.

All these ingredients are worked on and mixed with the bees' own salivary secretions to produce what has been called Bee Glue, that is, Propolis.


What is Propolis Gold?
Propolis Gold is a water soluble concentrated 100% natural vegetarian product.

It has no alcohol content.

Propolis Gold is all-natural and of the highest quality.

The Bioflavonoids in Propolis Gold is equivalent to 500 oranges.

It is the only health food with natural antibiotic.

The product is patented in United Kingdom.

It is scientifically researched and nmanufactured to the highest standards.

Continous research and development ensures consistent quality.

Research has shown that it has helped improve the health of millions of people all over the world.

Propolis Gold is the best selling product of its kind in the world.

Propolis Gold with 50% of potency and concentrated are manufactured under faultless hygienic conditions in accordance with WHO in compliance with EEC regulations of United Kingdom Food law and Good Manufacturing Practice (GMP). Propolis Gold do not contain unhealthy or harmful substance and do not contain any hormones, antibiotics and alcohol and is endorsed by Health Food Manufacturing association (HFMA)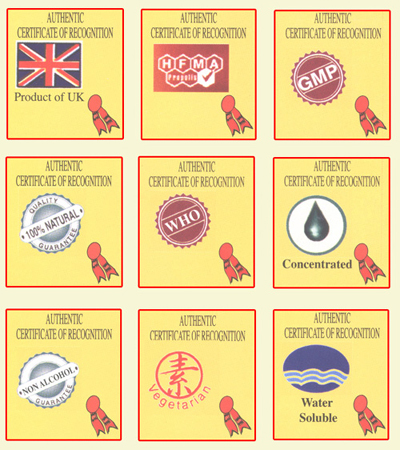 Testimonials
"There is no doubt that there is a lot of valuable material inside propolis and that as an anti-viral, anti-fungal and anti-bacterial agent, it is equivalent of any modern drug.
It is very promising."
Profesor Arnold Beckett, an expert in the chemistry of medicine.

"Ethanol extracts of propolis can promote the regeneration of connective tissue, cartilage and bone."
Dr. John Grange, Dept. of Microbiology, National Heart And Lung Institute, London.

"The substance can inhibit and even kill some bacteria. There is has significant beneficial effects in many ways. It is quite remarkable!"
Philip Galder, Department of Biochemistry at Oxford University.
Propolis Gold helps in the rejuvenation process by strengthening the body cells and body structure thus enhancing its immune system for optimum health including:-

HEAD

Headache

Balding

Greying Hair

Insomnia

Red Eyes

Eye Infection

Nose Infection

Sore Throat

Ear Infection

Gum Bleed

Toothache


BODY

Stiff Shoulders

Asthma

Tuberculosis

Heart Problem

Liver

Kidney

Digestive System

Colon

Stomach Ulcer

Fibroid

Piles

Herpes

Constipation

Backache

Flu

Cramps

Nerves

Fatigue

High Blood Pressure

Low Blood Pressure

Diabetes

Cancer

SKIN

Wrinkles

Skin Problems

Dry/Peeling Wounds

Measles

Spots

Chicken pox

Boils

Black Heads


To order, call Wan Hazmir Bakar at 019-2208679