STRANGER THAN FICTION
CHAPTER 12
WHO PROVIDED PROTECTIVE COVER FOR THE 9-11 OPERATION?
On October 26, 1999, the famous golfer Payne Stewart boarded a private Learjet in Florida and left for Texas. Shortly after takeoff, Stewart's jet veered sharply off course and began heading northwest. All contact with air controllers was lost. Within 15 minutes of having gone off course, US fighter jets had already intercepted the jet. Everyone on board was likely dead due to depressurization.
These fighter jets were dispatched by NORAD, the branch of the US air force whose job it is to monitor and defend US airspace 24 hours a day. NORAD works closely with NASA and maintains a huge array of land based radar systems. NORAD's fighter jets on alert 24 hours a day so that they can respond to any crisis. The jets escorted the doomed airplane until another group of Air National Guard jets took over the escort mission. Finally, Stewart's jet ran out of fuel a crashed in South Dakota. The quick reaction time and military precision with which NORAD intercepted and escorted Stewart's jet was impressive, and exactly what one would have expected from the greatest military and technological power in world history. (1)
But on 9-11, the same NORAD which had so effortlessly intercepted Stewart's jet in 1999, was nowhere to be found during that two hour period between the first planes going off course and the last one crashing in a Pennsylvania field. How is it possible that the airspace between Boston and Washington DC, an area which contains the political and economic heart of the nation, was left completely defenseless? The second plane to hit the New York had flown off course without communication for 40 minutes. On its way to New York, it actually flew within a few miles of McGuire Air Force base in New Jersey, after the first tower had already been hit! And how is it possible that Washington DC was left undefended (long after the New York attacks) when Andrews Air Force base is within car driving distance? The air force jets which did finally arrive were too late. Was this due to NORAD's incompetence, or was the order to scramble the fighter jets deliberately delayed so that the terror attacks could take place.
Given NORAD's impressive performance in the 1999 Payne Stewart disaster, this would suggest that someone high up in the Air Force establishment may have issued stand down orders to some of our Air Force bases. Remember, the Pentagon's Defense Policy Board is headed by Zionist Richard Perle and his gang of warmongering lackeys.(2) This civilians on this board wield the power to promote career minded Generals and Admirals. Is it really that hard to believe that a highly placed military leader could have collaborated with the true 9-11 planners?
Could the fact that NASA (which works hand in hand with NORAD) is under the Directorship of the Zionist Daniel Saul Goldin somehow be connected to NORAD's sudden "negligence" on 9-11?
What makes the Air Force's slow response even more outrageous, puzzling, and suspicious is that previously mentioned Newsweek article which revealed that several Pentagon leaders (Defense Policy Board? Perle? Feith? Wolfowitz?) cancelled flight plans for September 11 due to security concerns. (3) There were other warning signals too which we're reviewed earlier. In light of all these warnings, why wasn't NORAD and it's armada of fighters placed on an even higher alert than they already are? There is only one logical answer to these questions: Certain Pentagon leaders were "in on it".
Some high level Intelligence officials around the world have come to the same conclusion. General Hamid Gul, a former Director of Pakistani Intelligence appears to have hit the nail on the head with his analysis:
"The attacks against New York and Washington were Israeli engineered…"
"The attacks started at 8:45, and four flights are diverted from their assigned air space and no Air Force fighter jets scramble until 10:00. Radars are jammed, transponders fail and no IFF - friend or foe identification - challenge. In Pakistan, if there is no response to an IFF, jets are instantly scrambled. This was clearly an inside job. Will this also be hushed up in the investigation, like the Kennedy assassination?" (4)
The German newspaper, Der Tagesspiegel, interviewed Andreas von Bulow, the former head of the parliamentary commission that oversees Germany's secret services. Von Bulow stated:
"The planning of the attacks was technically and organizationally a master achievement—to hijack four huge airplanes within a few minutes and within one hour, to drive them into their targets, with complicated flight maneuvers," said von Bülow in the Tagesspiegel interview. "This is unthinkable, without years of support from state intelligence services."
"For 60 decisive minutes, the military and intelligence agencies let the fighter planes stay on the ground; 48 hours later, however, the F.B.I. presented a list of suicide attackers. Within ten days, it emerged that seven of them were still alive."(5)
This led the interviewer to call Von Bulow "a conspiracy theorist." To which Von Bulow responded:

"Yeah, yeah. That's the ridicule from those who prefer to follow the official, politically correct line," von Bulow responded. "Even investigative journalists are fed propaganda and disinformation. Anyone who doubts the official line is called crazy."
"With the help of the horrifying attacks, the Western mass democracies are being subjected to brainwashing. The enemy image of anti-communism doesn't work anymore; it is to be replaced by peoples of Islamic belief. They are accused of having given birth to suicidal terrorism." (Also 5)
Both Hamid Gul and Andreas Von Bulow accuse Israel's Mossad and elements within the US of being responsible for 9-11. These charges drew this response from George Bush, who said in a speech before the United Nations in November of 2001:
"Let us never tolerate outrageous conspiracy theories concerning the attacks of September the 11th - malicious lies that attempt to shift the blame away from the terrorists themselves, away from the guilty." (6)
If the "conspiracy theories" surrounding 9-11 are so "outrageous", then why would the President of the United States even bother to bring up the subject in front of a highly educated audience consisting of the world's top political leaders? Would a Nobel Prize winning scientist go out of his way to condemn "outrageous" flat earth theories during a speech before the world's top scientists? Would the US Surgeon General, speaking before the American Medical Association, go out of his way to condemn the "outrageous", and long since discredited, practice of deliberately bleeding dying patients? It seems to this writer that Bush protests too much.
Not surprisingly, Bush's main speechwriter during 2001, Daniel Frum, is a hard core Zionist. (7) Bush's Press Secretary, Ari Fleischer, is another Israel Firster who actually referred to Ariel Sharon as "a Man of Peace"! (8) Not only do these Zionists tell Bush what to do, but they apparently tell him what to say (or read) too. Given Bush's diminished intellectual capacities (likely exacerbated by 20 years of drunkenness), this too is not surprising.
Bush, or should I say, Frum & Fleischer, understandably have no tolerance for "outrageous conspiracy theories", but too many unanswered questions still arise.
Surely the masterminds of the 9-11 operation would have taken the time to learn something about US air defense procedures. They would therefore have realized that hitting New York City with jets hijacked from Boston would have been difficult. New York is about 30 minutes away by airplane and jumbo jets fly very slowly when compared to US fighter jets crack the sound barrier. Even with a 15-20 minute head start, NORAD's jets could have easily intercepted them, especially the second plane, which took a longer route to New York and flew way off course for 40 minutes. Why choose Boston's airport and jeopardize the success of the operation? Wouldn't it be safer to just hijack planes from New York's Kennedy or La Guardia Airports? Or even Newark which is just across the river. Any plane hijacked from either of those three busy airports would have been unstoppable. Even a plane from Philadelphia's Airport would have been much closer to the target than far away Boston.
The planners were no dummies. They must have counted on receiving protective cover and a window of opportunity by someone high up at US Air command. Why else choose Boston? In addition to the protection that the planners were to receive from certain Air Force elements, there is another plausible theory for choosing Boston's Logan Airport as well as United and American Airlines planes. It should be noted that the firm which provides security at Boston's Logan Airport and also Newark Airport, and also works extensively with United and American Airlines, is a company called Huntleigh USA. (9) Claiming that Huntleigh USA's airport security was grossly negligent on 9-11, family members of some of the victims are suing Huntleigh. (10)
Huntleigh USA had been acquired by ICTS International in 1999. ICTS is controlled by two Israelis; Ezra Harel and Menachem Atzmon. (11) In short, security at Boston's Logan airport was handled (or mishandled) by an Israeli controlled company. Is there a connection here? Could agents have been infiltrated into Logan Airport under Israeli owned Huntleigh's cover? It's quite possible. In the days following the 9-11 attacks, Israeli security professionals began aggressively marketing themselves in order to gain more airport security jobs. (12) Americans should be grateful to have such wonderful allies who care about our airport security so much!
Could some of the failure of our defense systems be attributed to a cyber attack from computer hackers? Our defense and intelligence systems are very dependent upon technology. A well coordinated attack on these systems may also have contributed to our inability to expose and prevent the attacks. There is one group that has the capability to attack our military computer systems.
In July of 1999, Ha'aretz (Israel) ran a story headlined: "Hackers Using Israeli Net Site to Strike at Pentagon": Ha'aretz reported:
"An Israeli Internet site is being used by international computer hackers as a base for electronic attacks on US government and military computer systems, according to Pentagon officials who were quoted in a Washington Times report yesterday."
"According to the Times, the real danger to US national security is the threat posed by foreign intelligence services or governments that could launch electronic warfare against the United States" (13)
And look what the US Department of Justice wrote in this 1998 press release:
WASHINGTON, D.C. -- The Department of Justice, in conjunction with the FBI, the Air Force Office of Special Investigation, the National Aeronautic and Space Administration and the Naval Criminal Investigative Service, announced today that the Israeli National Police arrested Ehud Tenebaum, an Israeli citizen, for illegally accessing computers belonging to the Israeli and United States governments, as well as hundreds of other commercial and educational systems in the United States and elsewhere. (14)
No doubt about it. Covert elements in Israel have been targeting the US military's defense systems for some time now. This could very well have been yet another instrument played during the great orchestrated concert of 9-11.

LEFT: GENERAL HAMID GUL: "CLEARLY AN INSIDE JOB"
RIGHT: PAYNE STEWART. HIS JET WAS IMMEDIATELY INTERCEPTED.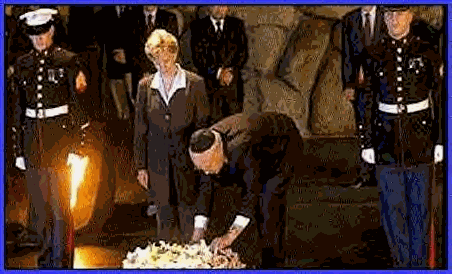 ISRAEL'S WORSHIPFUL WHITE HOUSE PUPPETS
RIGHT: BUSH: "LET US NEVER TOLERATE OUTRAGEOUS CONSPIRACY THEORIES." PHOTO OP BEFORE ISRAELI FLAG. CENTER: BUSH DONS SKULLCAP AND PRAYS AT ISRAEL'S WAILING WALL. LEFT: VICE PRESIDENT CHENEY DONS SKULLCAP AT ISRAELI CEREMONY.
LEFT: ARI FLEISCHER, ZIONIST WHITE HOUSE PRESS SECRETARY: "WE BELIEVE THAT ARIEL SHARON IS A MAN OF PEACE."
RIGHT: BUT SHARON'S VICTIMS SAY OTHERWISE