STRANGER THAN FICTION
CHAPTER 4
ZIONISM AND WORLD WAR II
Let us fast forward our time machine to the early 1930's. Again, there is no need for a detailed analysis and debate of the causes and major events of World War II. The sole purpose here is to again illustrate yet another case of selfish Zionist agitation for American entry into a war.
The German people were bitterly resentful of not only the Zionist role in bringing about their defeat in World War I, but also over the brutal monetary reparations which had been imposed upon them by certain Zionist bankers who helped craft the brutal Treaty of Versailles after the war. Stripped of formerly German territory, and with the German economy in ruins, the people of Germany elected Adolf Hitler as their Chancellor in 1932. Hitler and the Nazi party soon seized control of the German media, banks, and universities away from the influential Zionists who had reigned supreme in those institutions.
Almost immediately, Zionists all over the world began to agitate for action against Germany. Boycotts of German imports were imposed and calls for the UK and USA to take immediate action against Germany began to emanate from Zionist circles. On March 24, 1933, (6 years before the war began!) The Daily Express of England carried the bold headline; "Judea Declares War on Germany. Jews of All the World Unite in Action" . (1) The front page story revealed that the Zionists had announced a concerted worldwide effort to isolate Germany and turn other nations against her. The following year, Zionist political leader Vladimir Jabotinksy wrote:
"The fight against Germany has now been waged for months by every Jewish community, on every continent...We shall start a spiritual and material war of the world against Germany. Our Jewish interests call for the complete destruction of Germany" (2)
A few years later, Lord Beaverbrook, a British newspaper magnate issued this warning about the Zionist influence over the British press. Beaverbrook warned:
"There are 20,000 German Jews who have come here to England. They all work against an agreement with Germany. The Jews have got a big position in the press here. Their political influence is driving us into the direction of war." (3)
In September of 1939, Germany and Poland went to war over disputed territory that was taken away from Germany by the Versailles Treaty of 1918. Under the phony pretext of protecting Poland, Great Britain and France immediately declared war on Germany (conveniently ignoring the fact that Stalin's Soviet Union had invaded Poland too). Germany pleaded with Britain and France (the Allies) to withdraw their war declarations, but to no avail. The Allies continued their massive military buildup along Germany's frontiers. Germany's neighbors (Belgium, Holland and also Norway) came under intense Allied political pressure to allow Allied armies to establish bases in their territories. In the spring of 1940, the war in Western Europe began when Germany launched pre-emptive invasions of Norway, Holland, and Belgium, pinning the British and French forces on the beaches of Belgium before they were boat lifted across the English Channel. Beaverbrook's prediction was realized.
In the United States, the Zionist Mafia again went to work on a US president. The names of the players had changed but the game was still the same. Baruch was still pulling presidential strings along with other Zionist "advisors" like Henry Morgenthau, Eugene Myer, and Harold Ickes. Myer, a business associate of Baruch, bought the Washington Post during this time. (Myer's grandson Donald Graham runs the Post today) For his part, Ickes, FDR's Secretary of the Interior, banned the sale of helium to Germany in 1934. This forced the Germans to use flammable hydrogen to operate their famous airships. The Hindenburg Airship disaster of 1937 was due in large part to Harold Ickes vindictive helium sanctions against Germany.
It was Franklin Delano Roosevelt's turn to deliver the US into another European war. Patriotic Americans such as famed aviator Charles Lindbergh saw this and tried to warn the American people that Zionist media influence was intending to drive us into another World War. Said Lindbergh:
"I am not attacking the Jewish people. But I am saying that the leaders of both the British and the Jewish races, for reasons which are as understandable from their viewpoint as they are inadvisable from ours, for reasons which are not American, wish to involve us in the war. " (4)
Because of strong public anti-war sentiment, FDR and his Zionist handlers had a very difficult time dragging the US into the European war. Then an "incident" occurred at Pearl Harbor in 1941. Japan and Germany were bound to a mutual defense agreement, which meant that war with Japan would automatically mean war with Germany. FDR embargoed Japan's oil supply in the hopes of forcing Japan to attack Pearl Harbor. Overwhelming evidence from government documents clearly shows that FDR had advance knowledge of the Japanese attack and allowed it to happen so that he could drag the US into the war. (5)
After December 7, 1941, a wave of patriotic indignation swept across America and drove us into the war. As was the case in World War I, US entry led to another crushing defeat of Germany. Hours before committing suicide on April 30, 1945, Adolf Hitler dictated his last will and political testament. In it he placed responsibility for World War II on the Zionist Mafia - or, as he called it - "International Jewry and its henchmen". It's certainly no surprise that Hitler would make such a claim. However, his final accusation of the Zionists does parallel the statements made by Jabotinsky, Lindbergh, Beaverbrook, Prime Minister Neville Chamberlain, Ambassador Joe Kennedy, and many others. In the final public communication of his life, Hitler wrote:
"It is untrue that I or anyone else in Germany wanted war in 1939. It was wanted and provoked solely by international statesmen either of Jewish Origin or working for Jewish interests. Nor had I ever wished that after the appalling first World War, there would ever be a second against either England or America." (6)
Regardless of your view of World War II and whether or not the USA belonged in it, the essential point which cannot be refuted is again this: years before World War II had even started, the Zionists had yet again demonstrated that they had no aversion to sending Americans to die for their own interests.
LEFT: HEADLINE FROM BRITISH NEWSPAPER (1933) "JUDEA DECLARES WAR ON GERMANY." RIGHT: ZIONIST JABOTINSKY: "WE SHALL START WAR AGAINST GERMANY"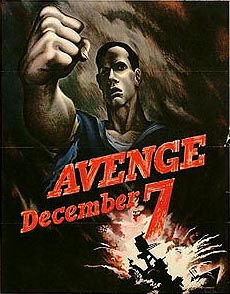 LEFT: LINDBERGH WARNED ABOUT ZIONIST INFLUENCE
CENTER: FDR ADVISOR ICKES. HIS ANTI-GERMAN FANATICISM HELPED CAUSE HINDENBURG DISASTER
RIGHT: FDR ADVISOR MORGENTHAU DRIVING WITH HIS PUPPET PRESIDENT
FAR RIGHT: PROPAGANDA POSTER: AVENGE DECEMBER 7
WORLD WAR RE-RUNS. SAME OLD MOVIE POSTER..DIFFERENT ENEMY
1917 1942 2001
"THE HUNS ARE COMING!" "THE NAZIS ARE COMING!" "THE MUSLIMS ARE COMING!"
HISTORY REPEATS ITSELF! EVIL EYES OF A FOREIGN BOGEYMAN STALK US FROM ACROSS THE WORLD... SAME OLD SCARE TACTICS.... DIFFERENT ENEMY